Cases
EA SPORTS
Content for the TikTok generation: For the FIFA series of the e-game developer EA SPORTS, we regularly develop campaigns, influencer actions and social media activations.
FIFA outfit for badmómzjay
Thick diamond necklace and pinstripes: we designed an outfit with Berlin rapper Badmómzjay that fans could unlock in FIFA 22. The 19-year-old Berlin native is considered the hip hop newcomer of the year, most recently gracing the cover of fashion magazine Vogue. Badmómzjay is also featured on the FIFA 22 soundtrack with her song "Tu nicht So".
FIFA 23 - Hall Of Fame
Berlin-based creative agency GLÜCK is starting the final season for FIFA from EA SPORTS with a lot of online activations. The game was released on Friday, September 30 for the 30th time.
The starting point for the GLÜCK campaign is a digital Hall of Fame with German soccer legends: Bastian Schweinsteiger, Lothar Matthäus, Michael Ballack, Miroslav Klose, Philipp Lahm and Gerd Müller. In a 3D animation the players stand in a virtual temple. All of them can be unlocked as "icons" in the FIFA Ultimate Team game mode.
Create your Club
Content series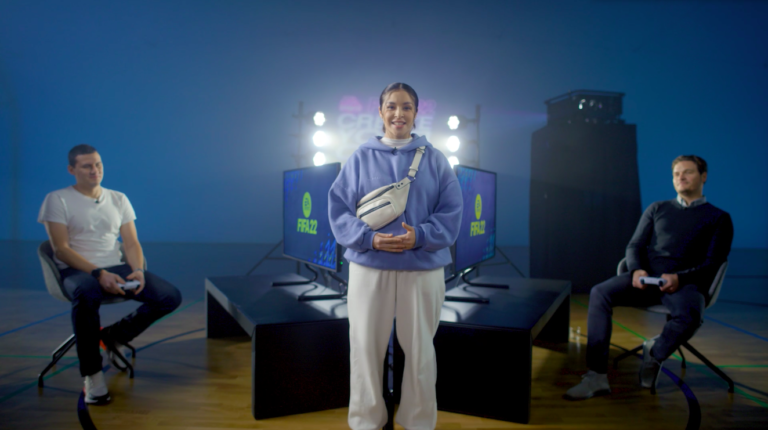 Blood strokes, neon lights and coaching wisdom: To explain the new career mode in FIFA 22 we let two coaching legends compete against each other. Ralph Gunesch and Edin Terzic battle each other in three episodes of the Create your Club content series that is about the best performance as a coach in FIFA 22. The show was broadcast on DAZN.
How to FIFA
Pro Gaming meets Pro Soccer: In the content format How to FIFA, professional FIFA player Fabienne shows Swiss national player Alisha Lehmann how to play FIFA properly. We designed and produced three episodes of the entertaining content format for EA SPORTS.
FIFA 22 Influencer Activation
With influencers from the areas of lifestyle, music, sports and gaming, we are taking FIFA 22 to new target groups. Rapper badmómzjay, TikToker Dannero and Swiss soccer player Alisha Lehmann and some more are part of the crew.